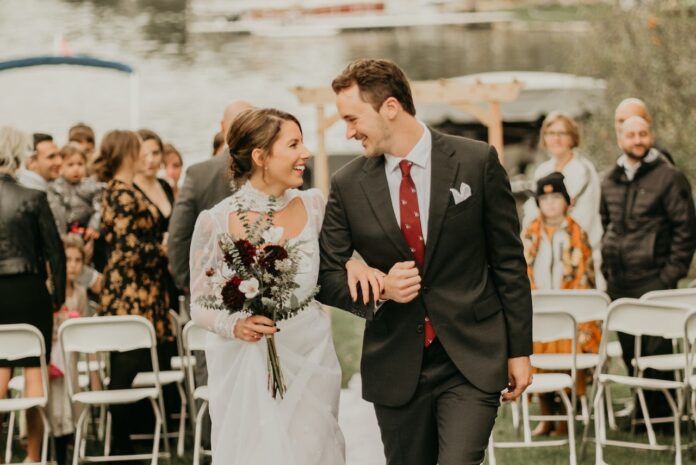 Marriage is an eight-lettered word. Eight is a number that represents inner strength, inner wisdom, social status, and infinity. Four words define marriage in the most beautiful form. Inner strength to ensure marriage survives the storms, inner wisdom to know marriage is not always rainy, it's also sunshine and rainbows. Social status adds a new identity to your being and infinite respect and loyalty that forms the foundation of a happy marriage. You must be wondering where is love. Well, respect and loyalty attract love. If you remember this through your journey, love will find you.
A lot depends on how compatible you are as partners and I cannot help but emphasize the importance of being on the same page. More or less this defines compatibility for me. You might not be on the same page every time but being there often is enough. To have a partner who lets you be you and doesn't take a lot of credit for the same is a bonus. Marriage is a partnership and this ship needs two to sail. I definitely have a list of zodiacs for you who will make your ship sail through smoothly.
Aquarius wife
Too good to be true she makes for a desirable partner. Her fondness for her loved ones and creating a beautiful home makes her a nurturer. She likes to have family and friends over and cook them a good meal. As a wife, she couldn't be more dutifull. She will make sure her partner has it all, a successful and thriving work life because she will provide him with a peaceful home, a satiated belly, and a goodnight sleep. Her presence is noticeable and charm captivating.
Capricorn wife
If you need someone who can raise a family as strongly as she can build an empire she is the one. She is too smart to stay at home. Her independence is infectious and motivating. She will be working until her water breaks and might just get back to work right after she has delivered a baby. Mastering just one art is not enough. She needs it all. She wants to be a good wife, a great mother, and have a success story we can all get inspired from. The way she multitasks is surprising but that's what a Capricorn woman is all about.
Pisces wife
One of the best investments in your life will be marrying this fish of the zodiac. She will be your shark during the difficult days & a dolphin during the pleasant ones. She will be your best friend & a confidant. Not much of a taker, but more of a giver. You can confide in her with all your secrets, no judgments attached. Her support will be subtle but strong. Her presence in your life will feel like a blessing you will count on every day. Beautiful outside, divine on the inside If you find her, never let go.
Cancer wife
This crab woman comes with the softest heart & a wise mind. Quite a combination to have. She will nurture you with good food & soulful advice. Also, she knows her way with her man. There is a checklist that Cancerian women carry in their head & if you check all the boxes you are the lucky one because what she has to offer is a lot more than her looks. She will treat your family like her own with the utmost respect. She is also a believer in traditions and customs and her presence in your life is going to raise your vibrations to a higher level. The journey with a Cancerian wife is one of a kind. Yes, it is worth it.
Leo Wife
Not a lot will agree with this one but I personally think they are underrated. To not give up when the times are tough, the days are dark & the nights are longer Leo women are patient & rebellious. A patient wife is a good wife. The key to keeping a Leo wife happy is never to try & control her, you won't itch the rebellion in her. Their fighting spirit is applause-worthy. With a Leo wife, your home is in safe hands. Financially she keeps things under check & she is actively engaged with her children. She will never be the one to leave you during difficult days that's also because she is too lazy to get up and move. She is a keeper.
A special mention for the Virgo wives.
A best friend in a soulmate is rare. If that happens you are lucky. Virgo women are special because of their love & loyalty. They love not through words but through actions and emotions. They might not say it often but you will feel it every day. To have a home that feels and smells like love is the doing of a Virgo wife.